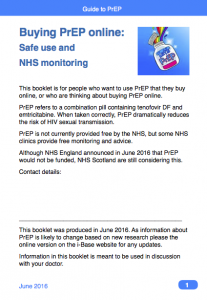 A new guide to support people using PrEP in the UK – especailly when using generic PrEP bought online.
The guide was first produced in June 2016. It updated and reprinted in November 2016.
The guide is available in print and online.
The guide includes:
Who could benefit from PrEP.
How to buy PrEP online.
Different ways to take PrEP.
Daily and event based dosing (EBD).
Important monitoring tests.
Other considerations.
Produced in collaboration with UK doctors and PrEP advocates from the following organisations and clinics.
Thanks to MAC AIDS Fund, the Monument Trust and BASHH for supporting this publication.