Confirmed viral rebound
If the second test shows your viral load is detectable at a similar or higher level – and you have been taking your meds – this confirms viral rebound. See Figure 2.
It is likely you have started to develop resistance to some or all of the drugs in your combination.
Most guidelines recommend changing treatment.
This is because HIV can develop resistance even when viral load is relatively low (between 50 – 500).
Figure 2. Viral load rebound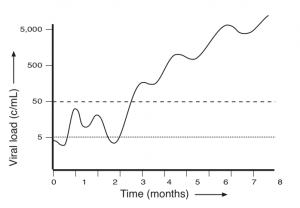 If the second viral load test is still detectable, and the person has been taking their meds, this is more likely to be a real rebound.
This can be a reason to change treatment.
Last updated: 1 January 2018.