PrEP (Pre-Exposure Prophylaxis)
What is PrEP?
PrEP stands for Pre Exposure Prophylaxis. 
It is a way for an HIV negative person to use HIV drugs to protect against catching HIV.
Oral PrEP uses two HIV drugs in one pill. These are usually tenofovir disoproxil (TD, TDF) and emtricitabine (FTC). In 2019, the US FDA approved a new version of oral PrEP that used tenofovir alafenamide (TAF) with FTC. This approval was only based on studies in gay and bisexual men and trans women.
For highest levels of protection PrEP needs to be taken before and after sex.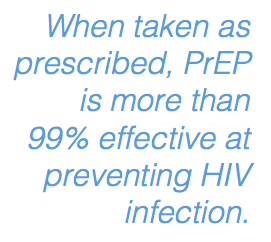 Most PrEP studies – including the UK PROUD study – involved taking one pill every day, even when not having sex. 
In studies where people were good at taking PrEP, there was close to 100% protection.
Some people can take PrEP just when they need it, rather than every day. This is called on-demand dosing.
The IPERGAY study used a double-dose (two pills) 24 to 2 hours before sex, with a single pill at 24 and 48 hours after the first dose.
If you are the receptive partner, on-demand dosing only protects for anal (no vaginal) sex. Daily dosing works for the receptive partner in both anal and vaginal sex. On-demand dosing work for the insertive partner for all types of sex.
PrEP was approved in the US in 2012 and was quickly included as a key recommendation in World Health Organization (WHO) guidelines. PrEP was only approved in Europe in July 2016.
NHS England decided to block access in June 2016. However, many people in the UK buy generic PrEP online. This is just as effective as the brand name drug but much cheaper. It is legal and safe to buy onlne meds.
PrEP is currently available on the NHS in Scotland, Wales and Northern Ireland. It is only available free in England by joining the PrEP Impact Study.
However, many people buy generic PrEP online. It is legal and safe to do this. The cost is approximately £17.50 for 30 tablets.
The Mags Portman PrEP Access Fund run by the THT can provide PrEP if you cannot afford it.
More information
New guide to PrEP in the UK (October 2019):
See also this link for more information.
Last updated: 1 December 2019.