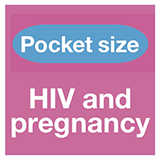 Having a baby involves much more than the medical and practical side to pregnancy.
For many people is a central part of their life.
Although HIV makes life more complicated, you can still have children and a family.
ART dramatically reduces the risk of transmission from a mother to her baby. This protection continues through pregnancy and when the baby is born.
ART also makes it easier for couples to conceive when one partner is HIV positive and the other is HIV negative.
This means that HIV positive people should get the same support and access to care as HIV negative people, including fertility services.
The information in the pocket guide to pregnancy – and in the more detailed HIV, pregnancy and womens' health guide is meant to help make having a baby an easier and wonderful part of your life.