Your HIV questions answered
Your HIV treatment questions answered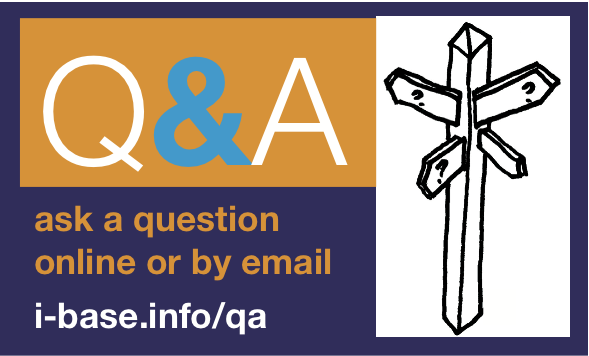 i-Base can answer any question about HIV treatment. This is a service for HIV positive people.
The answer will be personal to your situation. We use everyday language. Information is based on latest treatment guidelines and research.
This information is to be used in consultation and discussion with your doctor and is posted by treatment advocates (who answers these questions?).
With over 3000 questions online, organised into over 30 categories, your answer may already be here.
Check the date of previous answers! – guidelines change and older answers may only be accurate for time they were posted.

This is not a service about HIV testing or the risks of transmission
If you have a question about catching HIV, risks or testing please read this FAQ page on HIV transmission and testing. It will answer most questions.
A new Guide to sexual transmission and HIV testing contains more detailed information. Please read this resource. It will also answer your questions.
If you have symptoms you need to visit a doctor. We are not doctors and we cannot diagnose health conditions by email or online.
Other ways we can help
Treatment questions can also be sent by email to questions@i-base.org.uk
Call us on 0808 800 6013 Mon, Tues, Wed 12-4 pm.
Write to HIV i-Base, 4th Floor, 57 Great Suffolk Street, London, SE1 0BB.
Our guides to combination therapy explain HIV treatment in non-technical language
Feedback
Your feedback and suggestions are always appreciated.
Last updated: 10 December 2014.