Your HIV questions answered
Your HIV treatment questions answered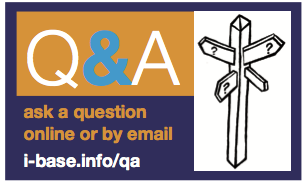 i-Base can answer any question about HIV treatment.
WE DO NOT ANSWER QUESTIONS ABOUT HIV TESTING OR TRANSMISSION – PLEASE SEE BELOW.
Questions are answered by a team of treatment advocates at i-Base. We are NOT doctors or nurses.
Any information we provide is to be used in discussion with your doctor. (See: Who answers these questions?).
We use everyday language to answer your question personally. The more information you include about your situation, the better we can do this. For example, roughly when you were diagnosed, your current CD4 count, whether you are on treatment etc.
It is especially helpful to know your country. This is because guidelines and treatment are different in different parts of the world.
Please check whether your question is already been answered.
Information we provide is based on latest treatment guidelines and research. Answers are based on best available evidence and references are included when appropriate.
Over 3000 questions are already answered online. These are organised into over 30 categories. Your answer may already be here.
Check the date of previous answers! – guidelines change and older answers may only be accurate for time they were posted.
Posting comment online
Most questions that are answered online include the option to post comments.
This is a chance to give your own perspective and experience. It is a chance to develop an interactive discussion.
HON code require that the following information is available about posting comments.
THIS Q&A SERVICE IS NOT FOR QUESTIONS ABOUT HIV TESTING OR HIV TRANSMISSION.
If you have a question about catching HIV, risks or testing please read this FAQ page on HIV transmission and testing. It will answer most questions.
A new Guide to sexual transmission and HIV testing contains more detailed information. Please read this resource. It will also answer your questions.
If you have symptoms you need to visit a doctor. We are not doctors and we cannot diagnose health conditions by email or online.
Other ways we can help
Feedback
Your feedback and suggestions are always appreciated.
Last updated: 19 May 2016.