HIV, pregnancy and women's health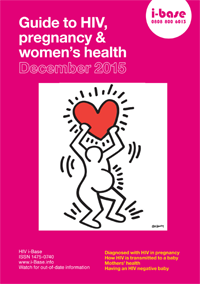 This guide explains what to do if you are diagnosed with HIV in pregnancy, and what to do if you already know you are HIV positive and decide to have a baby
Produced by i-Base with the 4M Mothers Mentoring Network. www.4mmm.org  email: info@4mmm.org

Credits
Polly Clayden wrote this guide for HIV i-Base.
Thanks to the advisory board of HIV positive people, activists and health care professionals for comments and the people who shared their stories.
Funded by The Monument Trust.
Artwork copyright: Keith Haring Studio.
Disclaimer
Information in this booklet is not intended to replace information from your doctor. Treatment decisions should always be made in consultation with your doctor.
Information about how we produced this guide and the importance of using language that is direct and easy to understand.
This includes information on how to write non technical medical information that may be useful as a resource for other organisations.
Last updated: 1 April 2019.