22 February 2019: vol 20 no 2
21 February 2019. Related: News.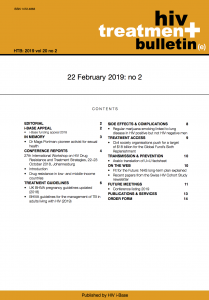 This issue of HTB includes a range of short articles and reports in the relative lull before the upcoming CROI conference being held this year in Seattle in the first week of March.
We also lead with a tribute to the inspirational Dr Mags Portman whose passion, energy and kindness will be remembered by all who knew her, including by activists at i-Base where she was a co-author to the UK Guide to PrEP.
Conference reports in this issue are from the International Drug Resistance Workshop in Johannesburg, focusing on drug resistance in low- and middle-income countries.
BHIVA has published two major sets of updated guidelines – on pregnancy and on TB/HIV coinfection.
And we review a paper from the long-running MACS cohort that reports an association between smoking marijuana and lung complications in HIV positive men that was independent of smoking cigarettes.
Although our next issue will bring reports from CROI, this conference will publish webcasts in virtual real-time and we will also publish early reports online.