Pipeline report 2014
19 July 2014. Related: News, Other reports.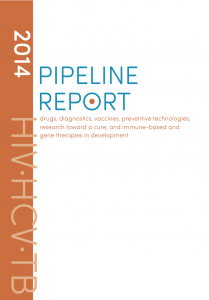 Latest annual review on pipeline drugs for adults and children, strategies for cure and prevention for HIV, HCV, TB and vaccine research.
The 2014 pipeline report was launched on 20 July 2014 at the International AIDS Conference in Melbourne.
This annual i-Base/TAG report covers research into treatments and diagnostics that are the most advanced in development.
Download 2014 Pipeline Report PDF – (1.2 MB)
Thanks to everyone at TAG for working on this joint collaboration.
Embargo: 20th July 8.00 am, Melbourne. (19th July, 23.00 pm London time).