21 January 2018: vol 20 no 1: Brexit and other complications…
21 January 2019. Related: News.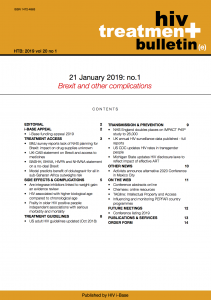 This first HTB in 2019 leads with several articles linked to the impending Brexit crisis.
A study from the BMJ reports scant plans for health provision if there is a no-deal Brexit and both the UK-CAB and a joint statement from BHIVA, BASHH, HIVPA and NHIVNA recommend that HIV positive people ensure they have sufficient HIV medications to cover the immediate period after 29 March 2019.
While the joint statement recommendation is that one month's supply might be sufficient, the UK-CAB more cautiously recommends getting your standard prescription renewed slightly earlier if this is due to run out in March or April 2019.
Also in the treatment access section, an important modelling paper from Andrew Phillips and colleagues finds that the benefits of universal use of a combination of dolutegravir/TDF/lamivudine in sub-Saharan Africa outweighs the risks, including potential for neural tube defects in infants if dolutegravir is taken by women at conception.
We review three papers on HIV complications:  (i) weight gain and integrase inhibitors, (ii) biological vs chronological ageing and (iii) frailty and HIV. These are evolving issues that show HIV management is still complex.
There is also good news in the expansion of trial places for the PrEP IMPACT Trial, reduced HIV incidence in transgender people in the US and the latest US State to update HIV transmission legislation to include that HIV treatment prevents transmission.
And although January is usually a difficult month, we would like to highlight the ongoing i-Base appeal that helps keep our reporting independent and our publications free to UK clinics.