ACT-UP. FIGHT BACK. FIGHT AIDS… the movie
7 November 2013. Related: News.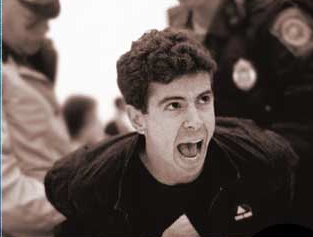 Simon Collins, HIV i-Base
The UK launch of "How to Survive a Plague" on Friday 8th November includes a chance to meet Peter Staley, one of the key activists involved.
This is the story behind the battle to develop HIV drugs that now treat over 10 million people globally and which are one of medicines greatest recent achievements.
The oscar-nominated film tells a compelling story of some of the early struggles by activists to get the US government to recognise the urgency of the AIDS crisis in America.
But this is not a film about HIV this is a film about AIDS.
When ACT-UP was founded in 1987, more than 40,000 people had already died in the US and 500,000 people globally. ACT-UP was not the founding movement, but the launch of a different response because nothing else had worked.
Largely compiled from over 700 hours of original footage, the film also includes interviews with recent activists who managed to make it though until the first drugs were developed in 1996, many of who are still involved.
This is a compelling story, whatever your level of interest or involvement in HIV, social history, lesbian and gay history, politics, prejudice or fighting for any type of social change.
The launch is at the ICA in London on 8th November, running for six days, with other showings at Picturehouse Cinemas, including Brighton on Sunday 10th November.
Peter Staley, together with the director David France, with be at screenings in London, Brighton and Exeter. See links below for details and further information.
i-Base review from Washington screening
52 page programme – (PDF)
How To Survive a Plague Screenings
8 – 14th November (excluding Monday 10th) 
ICA London
10th November 
Brighton Picturehouse with David France Q&A
11th November
Exeter, time TBC
Notting Hill Gate, 9pm with David France and Peter Staley Q&A
1st December
Brixton Ritzy, 3.30 pm
Clapham, 3.30 pm
Hackney, 3.00 pm
Cameo, Edinburgh, 4.00 pm
FACT Liverpool, 4.00 pm
Southampton, 4.00 pm
Cambridge, 4.00 pm
Greenwich, 3.30 pm
Leeds (time TBC)