Activists convince Washington Post that Pfizer lowers prices: global action highlights fairer alternatives – this story has been removed!
2 April 2016. Related: News.
Simon Collins, HIV i-Base
The dominant market structure where pharmaceutical drug pricing blocks access to otherwise cheap-to-manufacture life-saving medicines from the people who most need them, was highlighted by international activists on Friday.
This was a coordinated action linking community-based organisations from seven countries and directed against several large international pharmaceutical companies including Pfizer, Gilead and Roche.
In New York, the release of a press release on 31 March 2016, linked to a mirror website for the pharmaceutical company Pfizer, was picked up and reported by several leading new outlets including the Washington Post and the managed market journal AJMC.com. [1, 2]
The Pfizer-like document detailed how, after such profitable years, the company were announcing a new model for pricing that would enable their drugs to be more widely used:
"For many years we have calculated our initial drug prices by linking them to high research and development costs or to their market value. We have also had a policy of increasing prices over what is needed to stay above inflation" said Pfizer CEO Ian C. Read. "Our new analysis reveals that these price increases have made many of our products inaccessible so we are planning to walk prices back toward a more reasonable figure." Following recommendations found in PhRMA's "A Sustainable Pricing Plan for the 21st Century" Pfizer will reassess its pricing calculation method. Referring to Pfizer's recent campaign to raise awareness about the disputed cost of research and development Mr. Read continued "The figure of $2.87 billion quoted by DiMasi et al. in a recent paper was so out of line with our own actual costs that it led us to reconsider our entire pricing process."
Given these views echo those widely held by people who want fairer access to medicine, it is understandable how the story was easily reprinted.
And outside Pfizer offices in New York on 1st April 2016, more than 100 vocal and lively protesters, many of them from ACT-UP, were met by "an official company statement from a Pfizer representative" who announced "a plan to enable global access to life-saving medication by lowering price, called a sutainable pricing structure for the 21st century".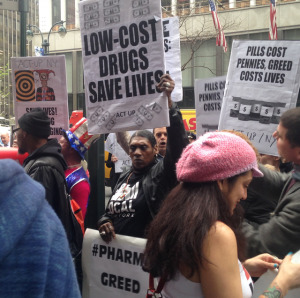 Following cheers from the crowd, the spokeperson continued: "This plan ties the price of drugs to the real research and development costs, while still guaranteeing a reasonable profit for our investors. Medication will now be priced so that every patient who needs them can get them." [3, 4]
Although, the original articles were removed within a few hours of being published – and the official spokesperson was an actor – the belief that prices could be lower and companies could still make profits accounts for the original rapid reports. The Washington Post website now has "article removed" messages and the AJMC story remains only as ghost google traces. [5, 6]
The "fake" press release is actually very convincing in showing alternative pricing policies that would work for people and still provide profits.
April Fools day was an appropriate choice for action against excessive drug pricing and lack of transparency for development costs. Coordinated by activists in seven countries, who realised that this is far from a joke for people who's lives depend on medicines that are held out of reach.
The action demanded an end to:
Unfair medicine pricing.
Deception about research and development costs.
Other actions took place in London, Johannesburg, Tokyo, San Francisco, Delhi, New York, Boston, Washington, Paris, Ahmedabad, Rio and Brazilia.
In London, members of ACT-UP UK protested inside offices of Gilead HQ wearing only painted letters on their back to spell out pharma greed. Reported widely, including in the Guardian and thebody.com. [7, 8]
In Johannesburg, members of the Fix the Patent Laws campaign, including Advocates for Breast Cancer, the Cancer Alliance, CANSA, Doctors without Borders, People Living with Cancer, SECTION27, the South African Non-Communicable Diseases Alliance, the Treatment Action Campaign and Wings of Hope picketed outside pharmaceutical company Roche to highlight the excessive price of a life-saving breast cancer medicine. [9]
In Boston, AIDS activists and medical students protested the research from Joseph DiMasi at Tufts University over industry funding disclose relating to DiMasi's estimates of development costs used by drug companies to justify astronomical prices. [10]
In India, activists highlighted drug pricing in a country where more than 70% of people live on less than $2 a day and health insurance is inadequate. India contribute roughly 1% of its total gross domestic product to healthcare, which is arguably among the lowest levels of funding in the world. [11]
In Paris and Tokyo, activists protested against Gilead for their pricing of drugs to treat hepatitis C demanding this should be closer to the cost of production. [12, 13]
By coincidence, a genuine press release by GSK, also on 31 March 2016, expaned policies for greater access to medicines drugs in low income settings to include cancer in addition to HIV drugs. [14]