ARV4IDUs now online (English edition)
26 January 2011. Related: News.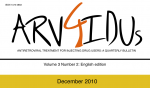 The English edition of this bulletin on Antiretroviral Treatment for Intravenous Drug Users is now online and available as a PDF download.
The Russian language edition will be distributed within two weeks.
ARV4IDU is funded by the Open Society Institute.
Download this issue. PDF (440 Kb)