ARV4IDUs – PDF downloads (archive)
14 June 2013. Related: Archive, Publications.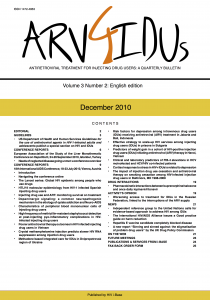 ARV4IDUs was a publication focused on issues relating to access to HIV treatment by people who inject drugs (PWID) – currently or formerly.
ARV4IDUs was produced by i-Base from 2007 to 2010 and published in English and Russian editions.
Issue 7: Vol 3 No 2 –  December 2010
ARV4IDU 3.2 English – PDF (330 Kb)
АРВдляПИН 3.2 Russian PDF (1.4 Mb)
Issue 6: Vol 3 No 1 – July 2010
ARV4IDU 3.1 English – PDF (310 Kb)
АРВдляПИН 3.1 Russian – PDF (1.8 Mb)
Issue 5: Vol 2 No 1 – October 2009
ARV4IDU 2.1 English – PDF (350 Kb)
АРВдляПИН 2.1 Russian – PDF (800 Kb)
Issue 4: Vol 1 No 4 – December 2008 
ARV4IDU 1.4 English – PDF (550 Kb)
АРВдляПИН 1.4 Russian – PDF (550 Kb)
Issue 3: Vol 1 No 3 – March 2008
ARV4IDU 1.3 English – PDF (550 Kb)
АРВдляПИН 1.3 Russian – PDF (350 Kb)
Issue 2: Vol 1 No 2 – October 2007
ARV4IDU 1.2 English – PDF (500 Kb)
АРВдляПИН 1.2 Russian – PDF (360 Kb)
Issue 1: Vol 1 No 1 – July 2007
ARV4IDU 1.1 English – PDF (360 Kb)
АРВдляПИН 1.1 Russian – PDF (580 Kb)