CROI 2010: non-technical conference summary
23 March 2010. Related: News, Other reports, Publications.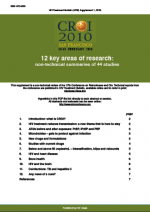 A non-technical summary from the recent 17th Retrovirus conference has been produced to cover some of the most interesting studies.
This supplement to the March/April issue of HIV Treatment Bulletin will also be distributed separately as a community report.
Covering twelve areas of research and touching on over forty studies, the electronic versions (online and PDF file) include hyperlinks to the original studies on the conference website.
Introduction: what is CROI?
HIV treatment reduces transmission: a new theme that is here to stay
ARVs before and after exposure: PrEP, iPrEP and PEP
Microbicides – gels to protect against infection
New drugs and formulations
Studies with current drugs
Below and above 50 copies/mL – intensification, blips and rebounds
HIV and heart disease
Bone health
HIV and the brain
Coinfections: TB and hepatitis C
Any news of a cure?