Dolutegravir and Truimeq approved in England: London guidelines updated
14 January 2015. Related: News.
This is a pre-press article for the January/February edition of HIV Treatment Bulletin.
Simon Collins, HIV i-Base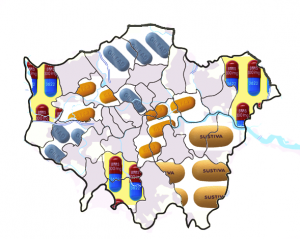 On 14 January 2015, NHS England published the long awaited policy on dolutegravir and the fixed dose combination (FDC) of dolutegravir/abacavir/3TC (Triumeq). [1]
The London prescribing guidelines for first-line therapy have also been updated to include dolutegravir and Triumeq. [2]
NHS England policy
The NHS document states two reasons why dolutegravir has the potential to improve care:
It reduces levels of HIV virus in the body quickly. This is the main aim of HIV treatment.
It causes fewer side effects than some other HIV drugs. This includes a much lower risk of common side effects such as mood changes, depression, anxiety, disrupted sleep and suicidal thoughts. Overall, this means the treatment is better tolerated and improves patient safety.
The evidence for these benefits came from large randomised studies. Studies looking at switching people on stable therapy are still ongoing.
The guidelines detail situations when dolutegravir can be prescribed for both naive and experienced patients.
1.   Patients unable to tolerate first line therapy
Patients who are not suitable for or who do not tolerate efavirenz based first line therapy due to demonstrated toxicity, intolerance, adherence, treatment failure or resistance as agreed in the multi-disciplinary team (virtual clinic). Dolutegravir is a treatment option for this patient group.
This policy recommends that where dolutegravir is used, it should be combined with the lowest cost, clinically indicated backbone.
The cohort of patients requiring alternative to first-line therapy is expected to be no more than 30% of the total treated patient cohort. Dolutegravir is now one of the options for these patients.
2.   Patients failing treatment and those with resistance
Dolutegravir is approved for use in these patients requiring an integrase inhibitor due to recorded treatment failure or resistance.
In treatment experienced and integrase inhibitor naïve patients at a dose of 50mg daily.
In treatment experienced and integrase resistant patients at a dose of 50mg twice daily.
London prescribing guidelines
The 2014 London guidelines that are specifically for prescribing first-line therapy now include the NHS recommendations on dolutegravir. These guidelines have been current since April 2014 and were published in July 2014. [3]
This January 2015 update primarily concerns doultegravir and Triumeq:
Dolutegravir can now be prescribed as an option for first-line therapy when neither efavirenz nor raltegravir are appropriate. Because of its higher price, this requires referral to a multi-disciplinary team or virtual clinic. (Slide 14).
The guidelines do not recognise a clinical advantage of fixed dose combinations for most patients in preference to prescribing recommendations. (Slide 15).
Dolutegravir can also be considered as an option for people who are switching treatment due to side effects or intolerance as these people are not defined as being stable on therapy. (Slide 23).
Dolutegravir should be prescribed in combination with Kivexa (abacavir and lamivudine) unless there are clinical contraindications again this.  Dolutegravir plus Kivexa are recommended rather than the single pill fixed dose combination (Triumeq). (Slide 24).
However, Triumeq can be prescribed for some patients if this is the outcome of the virtual clinic. (Slides 24 and 26).
A 6 month prospective audit is planned for all patients starting ART from December 2014. An audit of those switching within six months is also planned. Centres using higher proportions of non-efavirenz based regimens will have external audit of their virtual review and audit clinic.  (Slide 16)
Since 2011, the London tender process have already saved more than £10 million which is equivalent to approximately 5.2% annual savings from the ARV drug budget. The contract from 2014 is expected to save a further £ 4.8 million. (Slide 2).
The trade name for dolutegravir is Tivicay and the trade name for the fixed dose combination is Triumeq. Both are manufactured and marketed by ViiV Healthcare.
Comment
It is good that NHS executives finally agreed that specialised services clinical commissioning policies approved for publication will be available on the NHS England website. However, this has involved a long and protracted review and final review process given that dolutegravir, was approved by the European Medicines Agency (EMA) almost a year ago. [4]
Dolutegravir has been available in Scotland since May 2014. [5]
Triumeq was approved in Europe in September 2014. [6]
References