Fit for purpose: antiretroviral treatment optimisation (Feb 2017)
12 February 2017. Related: News, Publications.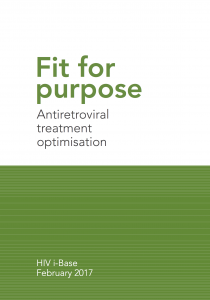 Some ARVs have shown superior or non-inferior efficacy at reduced doses compared to existing recommended ones.
These drugs offer improved durability and tolerability, higher bioavailability, lower pill burden, and the potential for fewer side effects.
The ARVs are: dolutegravir (DTG), tenofovir alafenamide (TAF), efavirenz (EFV) 400 mg, and darunavir/ritonavir (DRV/r).
Launched at CROI 2017, this new edition of an annual i-Base publication reviews and updates current and planned research for treatment optimsation studies looking to get increased outcomes from reduced doses in low- and middle-income countries.
Fit for Purpose i-Base – Feb2017 (download/open PDF file)