David Kato murdered in Uganda
27 January 2011. Related: News.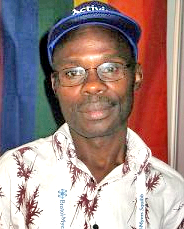 It is with great regret, sadness and anger that we report that David Kato, a prominent Ugandan human rights activist, was murdered in his home in Kampala yesterday.
A vigil is being organised at 11am on Friday 28th January outside the Ugandan High Commission in Trafalgar Square in London. Further details at this Facebook page.
For detailed reports see: Justice for Gay Africans Society, Sexual Minorities Uganda and Human Rights Watch.
David was known both internationally and in Uganda for campaigning against the draconian Anti-Homosexuality Bill that has been before the Uganda parliament since October 2009. While gay and lesbian sex is already illegal in Uganda, this new law proposes to criminalise all homosexuality, making it punishable by a fine and life imprisonment.
HIV-positive people, and people convicted a second time would be subject to the death penalty.
The proposed bill also mandates that anyone knowing someone who was a gay man or lesbians would mandated to report them to the police within 24 hours, or face imprisonment themselves.
David was one of three activists who sued the Ugandan newspaper Rolling Stone, not connected to the US magazine, after it published pictures and contact details of 100 gay men including David under the headline "Hang Them."
David spoke passionately and movingly about these issues at the  International AIDS Conference in Vienna last year.