fostemsavir (Rukobia)
1 February 2021. Related: ARVs, Entry inhibitors.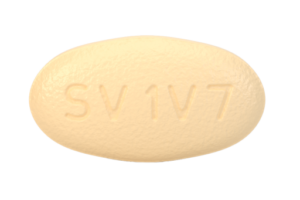 fos-TEM-sa-veer
Fostemsavir is a type of entry inhibitor that is active against gp120.
It was approved as a treatment for HIV multidrug resistance in the US in July 2020 and in the EU in January 2021. Fostemsavir needs to be used in combination with other active HIV drugs.
Standard adult dose: one 600 mg tablet, twice-daily.
Fostemsavir can be taken with or without food.
Mild side effects include feeling sick or being sick, diarrhoea, stomach ache, headache, feeling tired, difficulty sleeping and rash. These were reported in less than 1 in 10 people.
More serious side effects include changes in heart beat.
Liver problems have been reported in some people with hepatitis B or C coinfection.
Main drug interactions include: carbamazepine, enzalutamide, mitotane (Lysodren), phenytoin (Dilantin), rifampicin and St John's wort.
Fostemsavir is manufactured by ViiV Healthcare with the tradename Rukobia.
Further information
The European patient information and detailed Product Information for fostemsavir are available from this link at the European Medicines Agency (EMA) website.
The Patient Information is a simplified summary: what the drug is, why it is used, results from studies and cautions including side effects.
The Product Information is a detailed technical summary that you can access as a PDF file by clicking the 'Product Information' tab. It describes more precisely how the drug works and how it is processed by your body. This includes, for example, reported food interaction studies in terms of calories or fat content. It includes more details of the study results and a full list of side effects and drug interactions.