Hepatitis C for people living with HIV (March 2009)
11 March 2009. Related: News.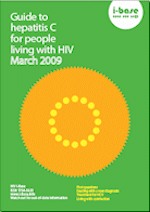 NOTE: This guide was updated in November 2013 and the links below are to this updated version.
Update of our guide for people with HIV/HCV coinfection.
People living with HIV, hepatitis C or coinfection, have written much of this guide. It is written with a positive outlook for management and treatment.
This emphasises that an individual approach to your own healthcare is essential Although only short personal quotes are included in the print version of this guide, longer stories from people living with coinfection are included in the web version.
We've also included references and referrals to other sources of information and support organisations. A glossary is included throughout the booklet and at the end to help with medical terms that may be new.
Finally, there is a short section on controversial aspects of care. Our
understanding of these issues is likely to change as new research becomes available.