HIV and quality of life: side effects & complications
17 November 2010. Related: News.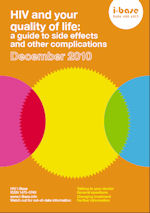 The information in this guide should help you get better medical care and improved health. It should help you feel more in control of your treatment, and, most importantly, to get a better quality of life.
It has been written by people who are HIV-positive, who have used many of these treatments and had many of the side effects.
It includes information on how to talk to your doctor about side effects. There are sections on each of the major side effects and medical and alternative treatments are included.
Changes to this edition
The fifth edition of this guide includes the following changes:
It has been updated to include side effects of the latest drugs.
Information on side effects of drugs that are now rarely used has been reduced in the print edition. This information is now only in the online version. This includes more detailed information on T-20, lactic acidosis, indinavir, d4T and abacavir hypersensitivity reaction.
We have expanded information on long-term complications. These may not be side effects but they are essential in getting your best quality of life. For example, the sections on bone health, heart disease, mental health and HIV and cancer.
We have included a new section on HIV and ageing because this an essential part of living well with HIV.
The guide includes comprehensive references online. There are hyperlinks to over 350 documents organised by subject. These include: the product information for each drug; UK, European and US treatment and management guidelines; and related studies that focus on safety and tolerability of drugs. Whenever possible we selected references that provide free full text access online.
Feedback and comments
We welcome feedback and comments and have developed and online survey.
surveymonkey.com/s/7CCWBW2