HTB 17 April 2020: CROI 2020 and COVID-19 supplement now online
17 April 2020. Related: News.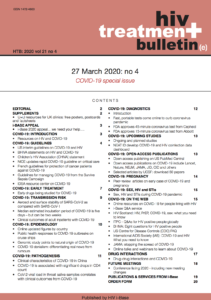 Given the extent of the broadening COVID-19 pandemic we again expand our section on coronavirus – and the impact for HIV care
This includes some of the first reports with data on how HIV affects risks of COVID-19 coinfection.
We include several papers on early treatments for COVID-19, often showing little benefit, and report on other studies that are ongoing, including the phase 3 studies with remdesivir with many UK sites.
And while the compounds are still in these early stages, we review Andrew Hill's analysis for production costs, should they prove effective, showing that pipeline compounds could be widely accessible in all settings.
In reporting a blog from the BMJ we highlight the importance of including HIV status and testing if needed within the management of COVID-19 – especially as HIV positive people with COVID-19 might not be treated at their HIV hospital.
We also signpost to BASHH resources on COVID-19 including a member survey reporting on how services have already been restructured.
But coverage from The CROI 2020 and Women & HIV Workshop planned for Boston are also included in this issue. These include an increased risk of diabetes in the ADVANCE study, more reassuring data on use of dolutegravir in pregnancy and an review by Richard Jefferys of vaccine approaches to delivering bNAbs that references a macaque study which recorded continued anti-SIV antibody levels out to six years.
The community experience from HIV unfortunately overlaps with much of the COVID-19 response. Certainly the lack of early treatment, the scramble to repurpose older drugs, a wide diversity of study designs, questions of pricing and access. Also, perhaps, having to manage unexpected grief and loss on individual and community settings.
And much of the clinical response to COVID-19 is directly lead by many nurses, doctors and other health workers being redirected from HIV and sexual health to the coronavirus response.
For all our colleagues and readers who are directly involved, we hope you are taking the best care you can, that you are resourced properly to protect your own health, and that you do this knowing we are very grateful.