HTB 18 October 2019 online: IDWeek 2019 and more…
18 October 2019. Related: News.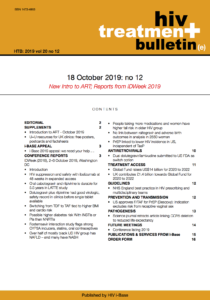 This edition of HTB leads with reports from IDWeek 2019, thanks to the US activist organisation natap.org.
Other contents includes news that the Global Fund replenishment round raised US$14 billion, with the UK contributing £1.1 billion.
Controversially, the US FDA have approved F/TAF as the second oral option for PrEP, but with a limited indication due to the exclusion of cisgender women in the phase 3 study.
Finally, Richard Jefferys reports on newly-retracted research from the journal Nature Medicine – in this case over a report that the CCR5-∆32 mutation is associated with an increased rate of all-cause mortality.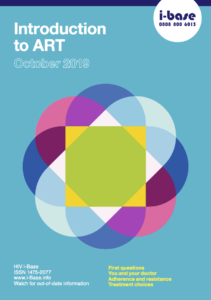 As a supplement we include the newly revised Introduction to ART. This printed guide (also online) is free to UK clinics. Please bin (or recycle) any copies from 2018 and reorder the new edition to keep you patients up-to-date :)