HTB 23 August 2019 online: Second reports from IAS 2019
23 August 2019. Related: News.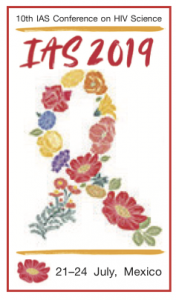 This bank holiday edition of HTB continues with further reports from the IAS 2019 conference held in Mexico City from 21 – 24 July.
These include several important studies on ART strategies.
Importantly, we highlight that reduced dosing (4 vs 7 days a week) are NOT equivilent options due to the risk of serious drug resistance with some combinations.
We also report the unexpected association of weight gain with dolutegravir in the randomised South African ADVANCE study.
Other reports on integrase inhibitors include use of dolutegravir in younger children in Odessey study and a review of several studies reporting high efficacy of switching to bictegravir/F/TAF, with analyses for drug resistance.
We also include on the PK analysis from the DISCOVER study that reports on potential advantages of F/TAF for PrEP in people with low adherence.