HTB 29 January 2020 online
29 January 2020. Related: News.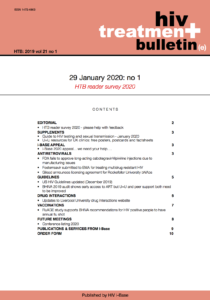 Welcome to the first edition of HTB for 2020 which in the lull between the New Year and CROI is mainly concerned with new drug submissions and treatment guidelines.
Catching most people by surprise, at the end of last year, the FDA held back from approving long acting cabotegravir and rilpivirine injections, despite impressive efficacy and safety results from phase 3 studies.
This was due to manufacturing questions linked to scaling up production which will hopefully be resolved quickly.
Also from ViiV, fostemsavir has now been submitted to both EMA and FDA as a new drug for people with multidrug resistance to current HIV medicines.
As balance, Gilead have negotiated an exclusive global license to develop and market very interesting early bNAbs that have been developed by Rockefeller University in New York.
In December, the main US HIV treatment guidelines were published. In addition to including the latest approved HIV medicines, the document includes new sections on U=U and HIV and ageing.
BHIVA have given a consistently high profile to the U=U campaign since Professor Chloe Orkin, the then chair, stated in July 2017 that anyone with "sustained, undetectable levels of HIV in their blood CANNOT transmit HIV to their sexual partners."
However, despite further development work, the 2019 BHIVA audit shows that there is still more work to do – although the UK is doing better at routinely starting ART within three months of diagnosis, with many people starting within four weeks.
A new i-Base guide to HIV Testing and Transmission is now available free to UK clinics.
In the hope you might be able to help financially support i-Base during this difficult time, we also include information about our 2020 appeal.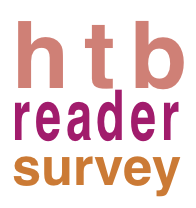 Finally, please could you spend five minutes to help with the short HTB reader survey.
This only includes 10 short questions with space for additional comments and your feedback will help us with HTB development this year.