HTB: no. 12 now online (Dec 2021)
20 December 2021. Related: News.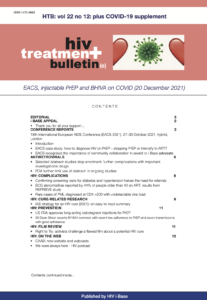 Welcome to the last issue of HTB this year.
And the range of reports show that very little in HIV should be taken for granted. Services have been severely challenged for almost two years due to COVID-19 and we approach the upcoming holidays still facing uncertainties over the Omicron variant.
Our final news from EACS includes a case study about the difficulty of diagnosing HIV on PrEP, perhaps controversial for differing from current guidelines, and positive news that the EACS award this year recognised the value of advocacy as part of HIV care.
Unfortunately, we also report further news that the investigational compound islatravir has been linked to lower CD4 and total lymphocyte counts and that many studies are now on hold. This is especially difficult because of the potential of several long-acting formulations for both treatment and prevention.
Other prevention news includes FDA approval of long-acting cabotegravir injections for PrEP in the US, and a UK report from the PrEP service at the 56 Dean Street clinic in central London.
We include three short reviews on HIV complications: diagnosing hypertension and diabetes, ECG abnormalities in the REPRIEVE study and rare cases on PML despite effective ART.
Although we are slowly stepping down our coverage of COVID-19 in the last few issues, BHIVA have just issued four important new guidance papers related to HIV care, including an outline to retain key HIV services. Plus information on vaccine complications and WHO recommendations against the use of convalescent plasma.
Finally, a review for a film that shouldn't be watched and details of an impressive series of podcasts from activist Marc Thompson on the early community responses to HIV in the UK.
We would also like to thank all readers, contributors and supporters for their help during this difficult year. Best wishes for the upcoming holidays and for the new year ahead.