HTB no 9: HIV and COVID-19: issue 6 (22 July 2020)
22 July 2020. Related: News.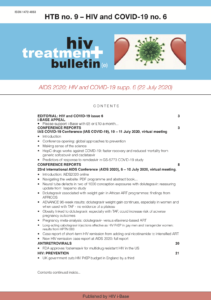 This edition of HTB includes reports from the virtual AIDS 2020 conference and linked satellite meetings on COVID-19.
The main heading news from AIDS 2020 included continued reductions in the signal concerning dolutegravir and neural tube defects, further results on weight gain from the ADVANCE study, cabotegravir as PrEP in HPTN 083, and an early report of HIV remission.
As the introduction to these reports shows, interacting with the virtual conference was not always easy. Although we include links to the site in our reports, the site will only be open access (without registration) after 27 July 2020.
The difficult website was reflected in overall attendance. Even when watching live events (and many were missed due to technical problems with the site), more than 2000 delegates were rarely online (when more than 20,000 people usually attend).
Many of the satellite workshops are easier to find and watch, and we include reports from the COVID-19 workshop on HCV drugs to treat COVID-19 and an update on remdesivir. As with the AIDS 2020 website, many of the webcasts and posters are now offline.
The rest of this extended issue includes both HIV reports and a continued focus on COVID-19.
For all the hope that coverage of COVID-19 might be less needed, this issue contains another 12 pages about coronavirus. Many important developments come from UK research – including new treatments, immune response, race and ethnicity and vaccines.
This supplement will also be formatted online as a separate PDF online.