HTB Sept/Oct online
1 September 2023. Related: News.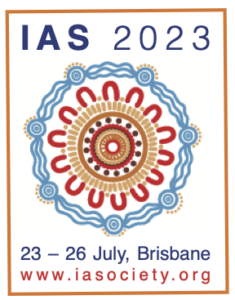 This issue of HTB continues our reports from the 12th IAS conference held in Brisbane in July, covering more than 65 presentations.
The CHAPAS-4 study provided important results to support better second-line ART options for children and we include comments about practical issues related to treatment access.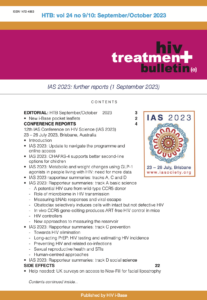 We also report on the use of semaglutide and other GLP-1 agonists in people living with HIV from a poster that has small numbers but reports significant weight loss when using only the lower dose which used to manage diabetes. Again, we include comments that discuss the lack of data on this drug class as part of HIV care.
We also include three review articles based on the rapporteur summaries for basic science, prevention and social science – conference Tracks A, C and D. Even though the primary focus of HTB is clinical science (Track B, reported last month) the conference included important breakthrough science in these other areas.
Track A includes important advances in cure-related research and Track D includes the difficult and disturbing legal changes in Uganda threatening LGBT people, and anyone who supports them.
The rest of HTB includes five short reports on recent peer-reviewed papers that cover immune inflammation, cannabis use, mpox, cryptococcus and timing of ART, and CSF complications.
This is also the third time that we have produced a simple non-technical summary of this issue of HTB that explains why the reports we included are important.