i-Base: two vacancies for treatment activists
8 June 2011. Related: News.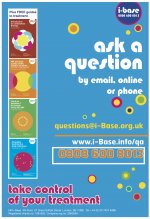 We are looking people who are dynamic, treatment literate and self motivated, who are happy to work independently and also as part of a team. There will be opportunities to develop new projects within the organisation.
The successful candidates are expected to be familiar with the work we do (both nationally and internationally), keep up to date with scientific developments in HIV treatment and prevention and to be able to communicate these to others in many different formats.
i-Base goals include excellent quality of care and equality of access for people with HIV.
We have an equal opportunities policy and we are particularly interested to hear from HIV-positive candidates.
These posts can be part-time or full-time. Applications by 15 June 2011.