AIDS 2010: non-technical summary from IAS conference in Vienna
17 September 2010. Related: News, Other reports, Publications.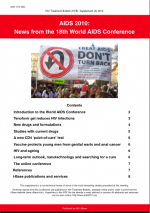 This supplement to the September/October issue of HIV Treatment Bulletin is a non-technical summary from the recent 18th World AIDS Conference held in Vienna.
The electronic versions (online and PDF file) include hyperlinks to the original studies on the conference website.
Introduction to the World AIDS Conference
Tenofovir gel reduces HIV infections
New drugs and formulations
Studies with current drugs
A new CD4 'point-of-care' test
Vaccine protects young men from genital warts and anal cancer
HIV and ageing
Long-term outlook, nanotechnology and searching for a cure
The online conference
References
i-Base publications and services