January/February HTB now online
5 February 2016. Related: News.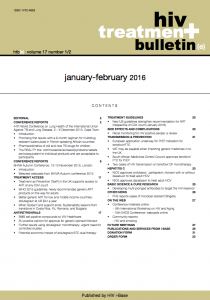 The latest issue of HTB is now online.
Download/open PDF – (800 Kb)
With barely a nod since the New Year, this issue of HTB is especially sparky with international and UK news that affects important aspects of both current and future HIV care.
Reports from the 44th World Lung Conference include a promising nine-month regimen for MDR-TB and PK data for children.
And reports from BHIVA include the political issue of the gap between best clinical evidence (in NICE accredited BHIVA guidelines) and current commissioning guidelines (based on recommendations from 2012). This threatens to make early access to care in England the worst in the world, with little indication there is any urgency for change before 2018.