Links to IAS webcasts
17 August 2012. Related: News.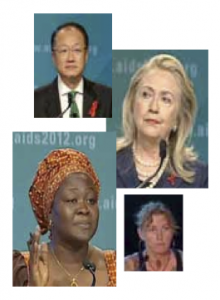 As part of our coverage of the IAS conference we include links to a selection of web casts from some of the people who spoke with passion, optimism and from the heart about the challenges for ending AIDS.
The opening ceremony included Elly Katabira (departing IAS president) and Diane Havlir, the co-chairs for the conference, the Gay Men's Choir (Washington) and 24 year old Annah Sango from Zimbabwe talking about her hopes as an HIV positive woman, Jim Yong Kim, current president of the World Bank (and the first to address the AIDS conference) and former director of HIV/AIDS department at the WHO.
Also highted from the week: Michel Sidibe (UNAIDS), Françoise Barré-Sinoussi (IAS), Bill Clinton, Phill Wilson  (HIV positive US activist, Anthony Fauci (head of US NIAID), Hilary Clinton, Rolake Odetoyinbo, Naomi Akers, Anna Zakowicz, Ian McKnight and Sharon Lewin.