London signed up as a fast-track HIV city by Mayor Sadiq Khan
10 January 2018. Related: News.

Simon Collins, HIV i-Base
On Wednesday 10 January 2018, Sadiq Khan, the Mayor of London hosted a signing ceremony at City Hall for London to be the second UK city to join the HIV Fast Track City initiative. [1]
Other sponsors of this event included the London Councils, Public Health England, NHS England and IAPAC.
This UNAIDS-backed Fast Track Cities Initiative was launched three years ago in Paris when 27 Mayors from high incidence cities globally signed up to achieve the UNAIDS 90:90:90 targets by 2020 and to end the AIDS epidemic by 2030. [2, 3]
Additional objectives include having combination prevention services and to eliminate stigma and discrimination.  So far, more than 200 cites ­have signed up from Africa, Latin America, Europe, Asia and North America.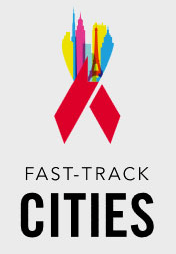 This political focus on HIV in London is important. Approximately 37,000 Londoners are living with HIV – 43% of the UK total – with 2,000 new diagnoses in 2016. Also, 18 of the 20 highest prevalence local authorities are in the capital.
The event was used to publicise that London has already achieved the main 90:90:90 targets. In 2016, 90% of people living with HIV in London were diagnosed, 97% of whom were on ART and 97% of those on ART had undetectable viral load. [4]
It also highlighted the collaborative work from London boroughs to support the Do It London campaign. Launched in 2016, this uses a combined HIV prevention approach: testing, condoms, PrEP and early treatment – fully supporting that having an undetectable viral load means HIV is effectively untransmittible (U=U). [5]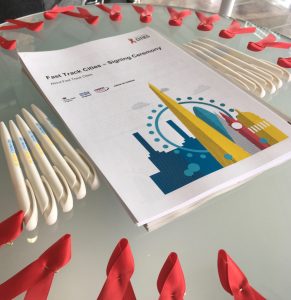 But London only just scrapes though on the HIV testing target. So although many of the speeches at the launch were positive, there was no time for questions. Instead, many discussions with doctors and community activists highlighted how demand for services, including HIV testing, actively limits clinics from achieving these goals.
For example, both the 56 Dean Street clinic in Soho and the Burrell Street clinic in Southwark ask people to register for appointments online, but report that allocated spaces are quickly taken. Dean Street estimate that of the 1600 daily requests, only 400 spaces are available.
The plans to reducing stigma and discrimination still have a long way to go too – and a strategy for how this will be reduced to zero are unclear. Several presentations to the BHIVA 2017 conference last year showed that even basic knowledge and confidence about HIV is still worryingly low and that HIV positive people are still unable to access many health services on an equal basis. [6] So although the launch included good news there is still much to do.
As part of the Martin Fisher Foundation "Towards Zero" campaign, Brighton was the first UK city to be designated with fast track status, for World AIDS Day 2016. [7, 8]
comment
The political focus on HIV from this initiative is good news.
While London has already passed the 90:90:90 preliminary goal thanks to new models of care at many of the highest-incidence HIV clinics, these services are currently threatened with caps for something as basic as routine and regular HIV testing.
HIV budgets are currently facing year-on-year real cuts and are suffering from the shifted responsibility for sexual health in England from the NHS to local authorities.
The commendable and appropriate goals to provide integrated prevention services and to end stigma and discrimination need to be matched with a strategy for how this will be achieved.
References