March/April HTB now online
22 March 2016. Related: News.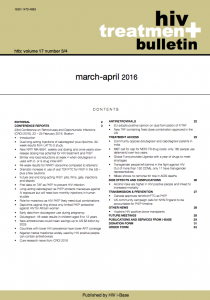 The latest issue of HTB is now online.
Download/open PDF – (650 Kb)
Packed with leading news from CROI 2016 – the most important annual scientific HIV conference.
Dozens of studies on PrEP – both current and future options – many of which could completely change the way PrEP is used.
We include reports on some exciting new HIV drugs, including for children, with compounds in early stages of research –  plus first reports on treatment access.
Plus stop-press news that NHS England has just blocked the process for UK access to PrEP.
Read the full editorial…