March/April HTB online
1 April 2013. Related: News.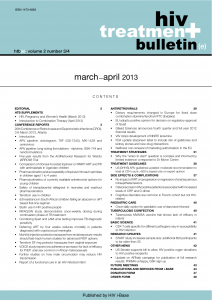 This new issue of HTB is now online.
This issue includes our first 18 reports from CROI 2013 – the most important annual HIV medical conference.
We include Richard Jefferys' elegant analysis of functional cure in an HIV infected infant: a case that attracted wide media coverage but divided opinion among researchers.
Pipeline drugs included studies on integrase inhibitors, nukes, NNRTIs, CCR5 inhibitors and maturation inhibitors, plus a separate report on long-acting formulations and nanoformulations.
A monthly injection, protected rhesus macaques after repeated rectal exposure to SHIV compared to placebo: offering the potential to overcome the adherence obstacles associated with oral PrEP, reported in the VOICE trial.
An abundance of paediatric studies include the ARROW study, conducted in Uganda and Zimbabwe, in collaboration with the UK MRC has produced a rich set of data to help guide children's treatment. Other reports include the development of lopinavir/ritonavir for infants and young children, PK in children, and a review of tenofovir use.
TB studies include Nathan Geffen on the much-anticipated RIFAQUIN trial using once weekly dosing in the continuation treatment phase and a study combining TB urine tests with Xpert to improve diagnostic sensibility.
We also include a review of statin use in HIV and studies looking for the mechanisms to explain why medical male circumcision reduces the risk of catching HIV.
Non-CROI news includes:
HTB supplements
Two of the i-Base treatment guide have been updated and are included as supplements to this issue of HTB.
Both are already online and are available free, including in bulk to UK clinics. Please order online in the regular way.