New ARV prescribing guidelines for London (2014)
1 July 2014. Related: News.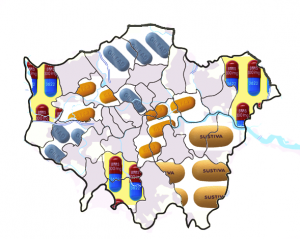 Simon Collins, HIV i-Base
New guidelines for prescribing HIV drugs in London are now available.
These guidelines are effective from April 2014 and although not yet posted online by the NHS, the summary slides are linked below. [1]
The guidelines are the result of a therapeutic tender that encourages drug manufacturers to offer volume discounts for use at different stages of the treatment pathway, for example, for preferred use in first-line, second-line and multiple resistant treatment.
Procurement on a London-wide basis aims for equity of ARV access across the capital by ensuring all hospitals pay the same prices for these medicines. This process has been driven by government-imposed budget constraints across the NHS, that since 2011 have made no annual increase for inflation.  Since April 2011, the HIV tender has saved more than £10 million from the drug budget. [2]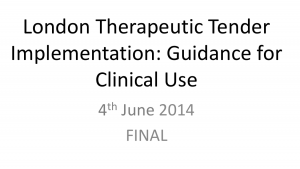 This is the first major update to the initial 2011 guidelines and proposals this year should save a further £4.8 million. This is approximately 2.5% of the total drug budget.
Irrespective of drug costs, the primary focus for the guidelines is to outline the best standard of clinically appropriate care. This aspect of the recommendations are guided by a sub-committee which includes key consultants, pharmacists and community advocates.
Key recommendations
Informed patient choice should be central to all treatment decisions.
Preferred first-line treatment remains abacavir/3TC plus efavirenz, when clinically appropriate (as previous guidelines).
Tenofovir/FTC is the preferred alternative to abacavir/3TC (as previous guidelines).
The preferred alternative to efavirenz however is now raltegravir (as this is a twice-daily drug, this a significant change).
Access to further options is then based on clinical decisions (rather than patient preference). These include atazanavir/r, darunavir/r, Eviplera or Stribild and require referral to a virtual clinic.
The virtual clinic (at least for PI/r use) can be retrospective and appears primarily as part of an auditing process.
There is no requirement to switch for people currently already on treatment. However, people currently stable on PI/r-based therapy or the FDC Eviplera (rilpivirine/tenofovir/FTC), should be offered the option to switch to raltegravir.
Generic formulations are recommended for some drugs when like-for-like formulations are available.
In line with current national policy, Atripla and Kivexa do not need to be split to use separate generic options and there is no recommendation to switch from nevirapine PR 400 mg once-daily to generic nevirapine.
First-line therapy
The 2014 recommendations are predominantly focused on first-line treatment. Budget targets can be met from the management of drug choices for people starting treatment, rather than from changing treatment for people who are already on treatment.
As in 2011, the preferred Initial treatment is abacavir/3TC plus efavirenz. If abacavir/3TC is not clinically appropriate (due to drug resistance, HLA B*5701 positive, viral load >100,000 copies/mL or high cardiovascular risk), then tenofovir/FTC is recommended. If efavirenz is not clinically appropriate (due to drug resistance, CNS toxicity, anxiety/depression, shift work etc), then the integrase inhibitor raltegravir is recommended.
The exclusive recommendation for raltegravir as an alternative to efavirenz is the most significant new change. It is also problematic, as raltegravir is a twice-daily drug, and national and regional guidelines (since efavirenz was first approved in 1998) have consistently recognised the benefit from once-daily treatment.
Twice-daily combinations can be very effective for some people. Few differences are seen compared to once-daily combinations, in some clinical studies. However, by definition, people taking part in these studies have all consented to multiple dose combinations. In real-life settings, the frequency of daily dosing complicates adherence and is one of the key factors for HIV positive people when decide on choice of treatment.
In 2014, access to alternatives to efavirenz now requires an additional level of bureaucracy through referral to a virtual clinic or other multidisciplinary team. This includes the option to use a once-daily boosted protease inhibitor (PI/r) – atazanavir/r or darunavir/r – both of which are already very widely prescribed. A late amendment to the guidelines, noted that this review clinic can be retrospective, making this an auditing process rather than one based on patient care.
There is also a concern that the reasons given to use alternatives to efavirenz or raltegravir are baseline drug resistance or concerns about adherence.
This is the point in the guidelines where patient choice should have been emphasised, and it's omission here is not helpful. HIV positive people should be able to simply prefer a once-daily to a twice-daily combination, if this is important for them, because of how it fits with their life. In 2014, this shouldn't need to be described as a "concern for adherence". It should be a preference.
However, at the launch meeting for the guidelines on 4th June it was clarified that the guidelines are not designed to restrict access to boosted atazanavir or darunavir, both of which are still expected to be widely used. [3]
Higher cost single table regimens (STRs)
The STRs Eviplera (rilpivirine/tenofovir/FTC) and Stribild (elvitegravir/cobicistat/tenofovir/FTC) can still be prescribed when clinically appropriate, but only after review by a virtual clinic. The guidelines are unclear about whether this review can also be retrospective. Although details of prices from the tender outcome are not published, this implies that Eviplera and Stribild in London remain significantly more expensive than other recommended combinations.
Eviplera is included as an option when efavirenz, raltegravir, atazanavir/r or darunavir/r are not suitable, but only if baseline viral load is <100,000 copies/mL.
Stribild can be prescribed if Eviplera is not suitable, in line with NHS England commissioning policy. [4]
People on stable treatment
The guidelines do not include recommendations to change people who are currently stable on existing treatment. There is no indication to switch between atazanavir and darunavir unless clinically indicated.
However, the guidelines recommend that raltegravir should be "offered" to people who are currently stable on either protease inhibitor based combinations or on Eviplera. Although the guidelines note that raltegravir may have clinical benefits of fewer drug interactions and a reduced impact on lipids than boosted PIs, this offer is likely to be driven by a new lower price for raltegravir.
Raltegravir may be preferred by people who are happy with a twice-daily combination, so broader access to an integrase inhibitor in first-line combinations is welcomed.
Fixed dose combinations and generics
Fixed-dose combinations are not specifically recommended for any intrinsic benefits of requiring fewer pills, but they can be used when the individual drug components would be appropriate. The guidelines use this indirect wording to say that Atripla can be prescribed when it falls within the guidelines, but that this is not based on data showing particular benefit from having three drugs in a single pill.
There is no indication to switch treatment for people currently on Atripla to generic efavirenz plus Truvada, or to to switch people on Kivexa to abacavir plus generic lamivudine.
Similarly, there is no requirement to switch people who are currently on once-daily prolonged release (PR) nevirapine 400 mg tablet to the generic immediate release (200 mg twice-daily) formulation.
Boosted-PI monotherapy
It is notable that boosted PI monotherapy is not recommended, as this has been used as a cost saving strategy for several years in other countries, including Spain. [5]
Boosted PI-monotherapy is therefore only recommended when the decision not to use either Kivexa and Truvada is clinically driven. In these cases, boosted darunavir is recommended and boosted atazanavir monotherapy is specifically not recommended.
Dolutegravir
Although dolutegravir was approved in Europe in January 2014, NHS England have not yet made a funding decision. The initial stakeholder consultation for this was recently completed and a further three month open consultation has just started. [6]
This makes broad access to dolutegravir unlikely in the UK until at least mid-October.
The London guidelines note that they are only going to consider dolutegravir after the NHS publish this decision.
Audit 
A prospective audit is planned for all patients who start HIV treatment and who then switch within six months.
An additional audit will be carried out for clinics using higher proportions of non-efavirenz containing combinations, although details for how this is defined is not included in the document.
Patient choice and quality of life
The guidelines include a principal that patient choice should be central to all treatment decisions and that "patients should be given the opportunity to be involved in decisions about their treatment".
This is especially important given the differences between drugs that have broadly similar efficacy and costs but that have very different lifestyle-related factors, including dietary restrictions, numbers of daily doses, psychological factors including anxiety and depression and shift work.
Community input was allowed at many stages of this process. However, including community representatives in the final decision making group is essential, and unlike 2011, this did not happen this year. It is not acceptable for HIV positive people to be seen as just another stakeholder in this process. We are the patient focus for these recommendations.
Evidence base
The evidence base for the guidelines has not yet been published.
comment
The guidelines continue to outline a high standard of care that should remain broadly similar across London. As long as all individual drugs remain available,  this should also minimise the difference in prescribing practice in other parts of the country.
However, in 2014, anyone starting treatment in the UK should have the option of a once-daily alternative to efavirenz.  As cost savings are not given for the recommendation to use raltegravir, the option to use once-daily treatment should be a personal choice and not due to a medicalised requirement based on concern about adherence. This is a preference related to their quality of life that doesn't need to be reduced to a "concern over adherence".
It is significant that there is no requirement to split Atripla or Kivexa – to use generic efavirenz and lamivudine, respectively, or to move back to off-label use of twice-daily generic nevirapine. Also, that boosted-PI monotherapy is not recommended. Although the PIVOT study recently reported that this could be a potential strategy that does not compromise long-term treatment options, approximately 35% of patients experienced low level viral rebound that required restarting NRTIs. [7]