November/December HTB now online
29 November 2017. Related: News.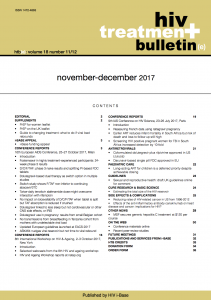 The latest issue of HTB is now online.
This last issue of HTB for 2017 leads with conference reports from three meetings.
EACS 2017 was lively – with phase 3 results for the pipeline compound fostemsavir, phase 3 results for D/C/F/TAF (the new FDC just approved in Europe) and numerous tentative studies using dolutegravir/3TC dual ART as maintenance therapy.
Although i-Base was not able to attend the 8th HIV and Ageing workshop, we review (and recommend) key webcasts and link to coverage from NATAP.
Finally, from IAS 2017, the last of our reports relating to HIV and pregnancy including using raltegravir.
Other selected contents include two articles by Richard Jefferys that analyse peer reviewed papers estimating the size of the latently infected viral reservoir, and the implications of the CANTOS study using the anti-Inflammatory antibody canakinumab on heart disease and cancer for HIV. Plus, a review of a very large database on HIV and cancer – with largely positive results from the impact of ART.
We also feature additional new resources on PrEP – especially a new booklet for women, developed with the Sophia Forum.
This year has not been easy for i-Base, with funding changes moving HTB to electronic-only distribution. So we would like to extend our appreciation and thanks to our readers who supported the 2017 i-Base appeal.
And yes! This appeal continues for any readers who would like to actively support us in 2018 – likely to be just as financially difficult. This online review of i-Base services has more details about the projects you will be supporting.
i-base.info/wp-content/uploads/2017/11/i-Base-2017-review.pdf
With this, thank you to all our readers, supporters and contributors.
Everyone at i-Base would like to send early best wishes for a happy and productive 2018.