PrEP – a pocket guide (2018)
1 July 2018. Related: Guides, News, Publications.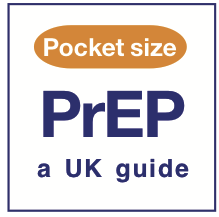 Pocket PrEP is an A7-sized guide to PrEP in the UK. It is an introduction to how PrEP works and buying PrEP online.
PrEP stands for pre-exposure prophylaxis.
It is away that HIV negative people can use HIV drugs to stay HIV negative – even when not using condoms.
Full guide to PrEP
i-Base also produce more detailed information covering all aspects of PrEP.
This guide is available online and as an A5 booklet.
The full booklet was produced as a collaboration with doctors and community advocates from the following organisations.

BASHH special interest group MSM
www.bashh.org
HIV i-Base
www.i-base.info
iwantprepnow.co.uk
www.iwantprepnow.co.uk
PrEPster.info
www.PrEPster.info
56 Dean Street
www.facebook.com/56DeanStreet
Mortimer Market Centre
www.cnwl.nhs.uk/service/mortimer-market-centre
cliniQ: sexual health and well-being for trans people
www.cliniq.org.uk