Diet and nutrition
What is a nutritious diet?
This factsheet will aim to give you some practical information on eating a balanced diet. It will show you how the nutrients that the body needs are related to the foods we eat.
Your body needs seven essential nutrients to keep healthy. These are: fats, carbohydrates, protein, fibre, vitamins, minerals and water.
The best way to give your body all nutrients that it needs is to eat a varied diet. Also, by aiming to eat more fresh and unprocessed or "whole" foods, it will be easier to get more nutrients from your diet.
Portion size
Portion size can be difficult to understand and hard to work out for every meal. So, as rough guide, please see this picture of an example plate of food: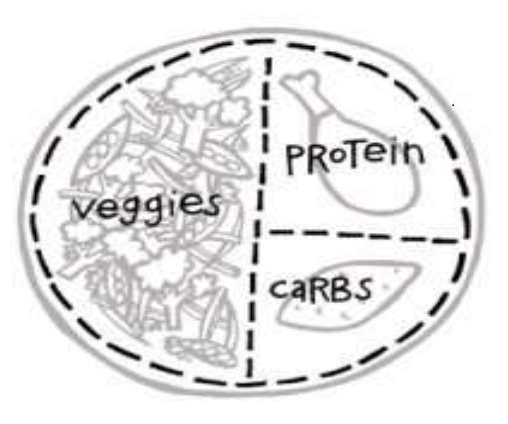 The protein on your plate will normally come from lean meat or fish. If you are vegetarian, you can choose from a range of beans and pulses.
When picking your "carbs" for the meal it is important to choose complex carbohydrates, such as wholemeal pasta, brown rice, sweet potatoes or oats.
Remember not to avoid fats completely. Just choose more of the unsaturated kind found in nuts, seeds, avocado, olive and rapeseed oil.
Example meals
Below are three basic healthy example meals in the form of breakfast, lunch and dinner. It shows the foods that make up each meal and the nutrients within the foods.
It doesn't show you the amounts of each food in the meal. This will depend on how many meals you eat in a day and how many calories you want to get from each meal. You can use the example plate picture and hand portion guide to help you.
Breakfast – A bowl of muesli with milk
Food
Oats
Nuts
Seeds
Dried fruit
Milk
Nutrients
Carbohydrate
(complex)
Fibre
Vitamins
Minerals
Fats
Protein
Vitamins
Minerals
Fats
Protein
Carbohydrate
(natural sugars)
Fibre
Vitamins
Minerals
Water
Fats
Protein
Vitamins
Minerals
Carbohydrate
(natural sugars)
Lunch – Pasta with meat, chunky vegetable sauce and side salad
Food
Wholemeal
pasta
Lean beef/lamb/pork
mince
Chunky vegetable sauce
Cheese
(grated)
Salad*
Nutrients
Carbohydrate
(complex)
Fibre
Protein
Protein
Fats
Fibre
Vitamins
Minerals
Water
Carbohydrate
Fats
Protein
Water
Vitamins
Minerals
Fibre
Dinner – Baked sweet potato with grilled salmon and mixed bean salad
Food
Bean salad
Sweet potato
Salmon (or other oily fish)
Nutrients
Fibre
Protein
Fats
Vitamins
Minerals
Water
Fibre
Vitamins
Minerals
Protein
Fats
Vitamins
Minerals
For vegetarians, most of the meat or fish products in the meals can be swapped for any pulses/beans. The dairy products can also be swapped for lactose free versions if you are lactose-intolerant.
* Try and use many different types of vegetables in salads and sauces. This provides more vitamins and minerals than just eating vegetables of the same type and colour – It should also taste better!
How many meals and how often?
Most people find eating three meals spaced out through the day: morning (breakfast), afternoon (lunch), and evening (dinner) the easiest. Spacing out meals throughout the day is also the best way to avoid hunger pangs and snacking on less healthy foods.
Others find that eating five smaller meals suits their lifestyle better. The number of meals eaten depends on the amount of food in those meals. Try to keep check of the size and type of meals that you eat. It will allow you to make sure that all of your meals are nutrient rich.
It is also best to avoid eating just before bed; it can make it harder to fall asleep as your body is still digesting food.
How quickly should I eat?
Try to take your time and enjoy your food! Eating too fast can lead to you feeling unwell and puts strain on your digestive system. Eating quickly also makes it easier to eat more food than you need. It can delay your stomach from telling your brain that it is full and time to stop eating.
What about snacking?
Most people snack during the day as it is normal to feel hungry between meals. Snacking can actually help towards giving your body the nutrients that it needs (as long as the snacks are healthy). Try eating a handful of nuts, seeds or a piece of fruit (apple, orange, banana etc) instead of sweets, chocolate and crisps.
Eating a handful of nuts and seeds will give your body some calories to help keep your energy levels up. Nuts also contain protein, fats, vitamins, and minerals.
Fruit contains water, vitamins, minerals and fibre. It will also give your body natural sugars. These give you more energy without causing a sudden spike (and then slump), which often happens after eating high sugar foods.
Want to find out more?
Last updated: 25 June 2020.