The little blue pill that can stop HIV: UK PROUD study
22 November 2013. Related: News.
NOTE As of April 2014 the PROUD Study in now fully enrolled.
---
The PROUD study – which uses a single pill called PrEP to reduce the risk of HIV transmission – is still enrolling, but only for a couple of months.
This study offers gay men in the UK one of the few chances to be able to use PrEP to protect against HIV. PrEP involves taking a daily pill that contains two widely used HIV meds.
So long as you take PrEP it gives a very high level of protection against HIV transmission – possible more than 95% protection. The study is called PROUD and it is still enrolling people for the next month or so, but this is only for a limited period. Currently the study needs your help to see whether PrEP can be used in the UK.
Everyone is guaranteed to be able to get PrEP. This is a two year study and half of participants will start straight away and half will start a year later. This is a much better design than using a placebo or dummy pill.
Although it may be disappointing if you are randomised to the delayed group, you will still get to use PrEP long before the NHS decides on whether this should be available free. The study include good care, support and monitoring. Otherwise, it just involves getting on with your life as normal, but keeping a diary of when you take PrEP, plus potential sexual risks.
PrEP is likely to have the greatest protection for people who have the greatest risks. So if you already use condoms every time, this is not the study for you. But if you don't always use condoms, or if you don't regularly use condoms, this study could prevent your next HIV test coming back positive.
You have the chance to access great healthcare and to use an effective way to prevent HIV. You can still join the study if you mainly use condoms and if you intend to continue using condoms through the study.
This study is also likely to be important in deciding whether the NHS will prescribe PrEP to gay men.
How well does PrEP work? 
There is very strong evidence that PrEP is effective. This largest study in gay men (called iPrEX) was particularly important because it enrolled gay men who had a high risk of catching HIV. This is because:
They were young (half were 18-25 and most of the rest were under 40).
They were sexually active (average 18 partners in the previous 3 months).
They frequently used alcohol (half had more than 4 drink on days they were drinking).
They didn't use condoms every time they had sex (80% had had sex without a condom in the previous 6 months).
HIV was rarely discussed before sex because this was often difficult (only 2% had knowingly had recently sex with a positive partner).
At least 10% of men had also had a recent STI.
If some of these factors are relevant to your life, then this study could make a big difference to you. Although PrEP may not be for everyone, a recent survey reported that about 50% of gay men in London were interested in this as an option to prevent HIV.
The iPrEX study showed that PrEP had a greater protection against HIV even that using condoms, so long as people were taking the meds.
This is because even when trying to use condoms all the time, sometimes they don't get used, or sometimes they can tear or fall off. The protection from PrEP is continuous – 24 hours a day, 7 days a week.
PrEP though can only be effective if you take the pills. But the level of protection is likely to protect against different ways that HIV is transmitted. This should include being active against the lower risk from oral transmission.
PrEP studies report a very close relationship between taking PrEP and the level of protection.
Just as condoms sometimes get missed, you can also forget to take a pill. Luckily the level of protection is still likely to be high so long as you take most of the pills. An occasional missed pill is likely to be fine – and unlike when the PrEP meds are use to treat HIV, there is no risk of developing drug resistance if you are still HIV negative.
See the links below for more detailed reports of these studies. It is also important to remember that PrEP does not protect against other sexually transmitted infections (STIs). The study will emphasise the importance of condoms and will include other information and support to help with looking after your sexual health.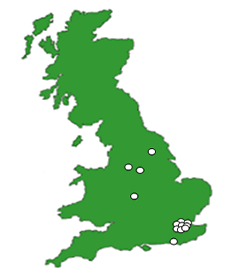 Where is PROUD being run?
The PROUD study is being run at nine of the largest sexual health clinics in London.
It is also running in Birmingham, Brighton, Manchester, Sheffield and York.
Clinic sites are listed at this link.
The PROUD study is an independent study supported by Public Health England (PHE) and the Medical Research Council (MRC).
i-Base support this study as a potentially important and exciting option for gay men to be able to use if they are at a high risk of catching HIV. i-Base is an independent HIV treatment information charity that has no financial relationship with the study or the clinic sites.
Further information
If you would like to talk to a community treatment advocate about PrEP, the i-Base phoneline (0808 800 6013) is open on Monday, Tuesday and Wednesday from 12.00 noon – 4.00 pm.
If you would like to speak with someone outside these hours this can be arranged by sending an email to the i-Base information service: questions@i-Base.org.uk.
See also these links below to the study website and to previous i-Base reports on PrEP.
PROUD study website
http://www.proud.mrc.ac.uk/
List of current PROUD trial sites
http://www.proud.mrc.ac.uk/where_are_we_recruiting.aspx
Analysis from iPrEX study modeling close to 100% protection with good adherence
https://i-base.info/htb/16327
First report if iPrEX results in December 2010
https://i-base.info/htb/14191
Survey result showing half of gay men in London would be interested in using PrEP
https://i-base.info/htb/16694