Pipeline report 2016
10 July 2016. Related: News, Other reports, Publications.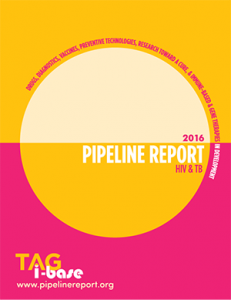 The 2016 i-Base/TAG pipeline report is now online.
This annual i-Base/TAG review reports on the latest research for treatment, cure and prevention for HIV, HCV, TB – for both adults and children.
The report covers research into treatments, diagnostics, vaccines and treatment strategies that are the most advanced in development.
Download 2016 Pipeline Report PDF – (1.2 MB)
Thanks to everyone at TAG for working on this joint collaboration.
The report is also published on a dedicated website that archives this and all previous pipeline reports:
This year the report was launched on 15 July 2016 just prior to the International AIDS Conference in Durban, South Africa.
Embargo: 15th July 6.00 am (Durban), 5.00 am (London) and 12.00 am (New York).