HTB supplement: 2016 Pipeline Report
14 July 2016. Related: Special reports, Pipeline report.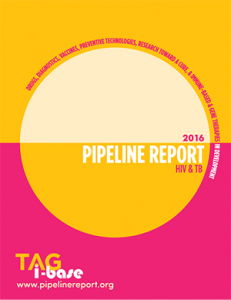 HIV and TB: Drugs, Diagnostics, Vaccines, Preventive Technologies, Research Toward a Cure, and Immune-based and Gene Therapies in Development.
Polly Clayden, Simon Collins, Mike Frick, Mark Harrington, Tim Horn, Richard Jefferys, Erica Lessem, and Lindsay McKenna.
Download 2016 Pipeline Report PDF – (1.8 MB)
May be copied with attribution for noncommercial use.