Changing treatment and drug resistance (February 2013)
4 February 2013. Related: News.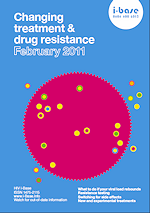 This guide looks at what to do if your viral load rebounds and how to know whether this means that your has failed. It looks at why treatment can fail and what you can do to increase the chance of success with your next combination.
It also looks at when to change, choosing a new combination, experimental strategies and drugs that are in development will hopefully become approved in the near future.