Changing ART: what to do if viral load rebounds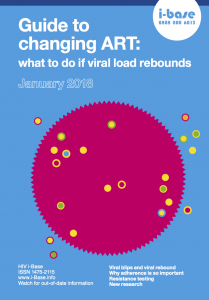 This booklet about changing HIV treatment (ART) and drug resistance was updated in January 2018.
It explains when and why treatment needs to be changed, which tests are used and what the results mean, how to choose drugs for the next combination and how to help make sure the next treatment will work well.
It also includes information about new drugs in development and other research.
This guide was written and compiled by Simon Collins for HIV i-Base. Thanks to the advisory group of HIV positive people and healthcare professionals for comments and to Monument Trust for funding this publication.
Information about how we produced this guide and the importance of using language that is direct and easy to understand.
This includes information on how to write non technical medical information that may be useful as a resource for other organisations.
Last updated: 1 November 2017.