Evotaz (atazanavir + cobicistat)
12 October 2016. Related: ARVs, PIs, PK booster.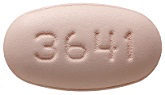 EE-VO-taz
Evotaz is a single film-coated tablet that contains atazanavir (300 mg) plus the booster cobicistat (150 mg).
Standard dose is one tablet, once-daily.
Evotaz needs to be taken with food to further increase levels of atazanavir.
For more details please see informations about each drug: atazanavir and cobicistat.
Evotaz was approved in the EU and the US in January 2015.
Evotaz is not routinely available yet in the UK.
See also: atazanavir and cobicistat.
Link to US prescribing information package insert.
Link to US pateint information leaflet. (PDF)