cobicistat (Tybost)
12 April 2016. Related: ARVs, PK booster.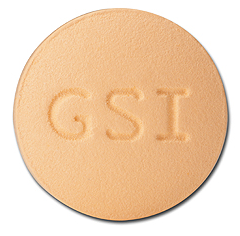 koe-BIS-ee-stat (TYE-bost)
See also: Stribild, Rezolsta, Genvoya and Evotaz which all contain cobicistat.
Cobicistat is a PK (pharmacokinetic) booster that is used to increase levels of some other HIV meds. It is similar to ritonavir in the way it boosts drugs. Unlike ritonavir, cobicistat does not directly work against HIV.
Cobicistat was approved in Europe in September 2013
It can be used to boost either atazanavir (300 mg once-daily dose) or darunavir (800 mg once-daily dose).
It is not approved to boost other protease inhibitors.
Cobicistat is dosed at 1 x 150 mg tablet once-daily.
Cobicistat can interact with a wide range of other HIV drugs and non-HIV drugs, including supplements and over-the-counter medicines. Please make sure that your HIV doctor and pharmacist know about any other medicines, drugs or supplements that you take.
Cobicistat is coformulated with darunavir in a single tablet called Prezcobix.
Currently cobicistat is included in several combination pills including Stribild, Rezolsta, Genvoya and Evotaz.
Further information
The European patient information and detailed Product Information for cobicistat (Tybost) are available at this link on the European Medicines Agency (EMA) website.
The Patient Information is a simplified summary: what the drug is, why it is used, results from studies and cautions including side effects.
The Product Information is a detailed technical summary that you can access as a PDF file by clicking the 'Product Information' tab. It describes more precisely how the drug works and how it is processed by your body. This includes, for example, reported food interaction studies in terms of calories or fat content. It includes more details of the study results and a full list of side effects and drug interactions.
Until this becomes available, please see the information related to cobicistat in the online documents for Stribild and in the  press release for cobicistat approval.