HCV – but that is now easy to cure?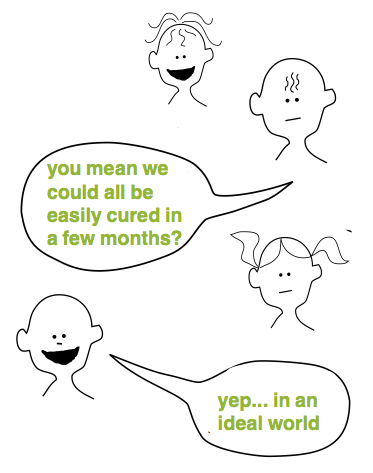 If you are reading this guide it is likely you have recently been diagnosed with HCV.  Or you might have been diagnosed for several years and are now thinking about treatment.
Either way, you might want to know about treatment first. Before any details about transmission, diagnosis, monitoring or even choice of meds.
These first two pages cover news about current treatment. There is then more detail about everything else.
The good news – very easy to report – is that new HCV drugs are so effective that at least 95% of people using treatment will be cured.
These meds are safe with few side effects.
Treatment takes only 8 to 24 weeks.
These are oral drugs, sometimes with just one pill a day.
Even though they are expensive for the NHS to buy – currently more than £30,000 for a course – people with coinfection in the UK are steadily being treated.
Many of these drugs are very cheap to manufacture. Generic versions available online are much cheaper – making this an option for some people.
HCV in a DAA world
So in an ideal world, this guide would be a one page leaflet.
You would find out you have HCV, you would be treated quickly, and cured.
You would not need monitoring to see if HCV is damaging your liver.
You would not need to know the type of HCV that you have (the next DAAs will treat all subtypes of HCV).
You would rarely need a liver scan (unless your liver is badly damaged) – even though scans are now easy and painless.
Just test, treat and cure.
And if everyone was treated, your risk of reinfection would also become almost zero. This is because if most people are also cured, the chances to catch HCV again would also be low.
HCV in the UK
If you do not have access to DAAs, your HCV care will be a bit more complicated. It will involve monitoring, scans and likely delays before treatment.
In the end, you are still likely to be cured, but this process will take time.
How quickly you get DAAs will depend on your individual health – mainly on the degree of liver damage. But it might also depend on where you live and where you are treated.
Another option is to buy generic treatment at much cheaper prices that the NHS has to pay. More information about UK access, including buying meds online.
Having to buy treatment might not be fair, when meds should be free, but as it is an option in the UK, we include these details in this guide.
Over time, the prices charged for HCV drugs will become lower and access to treatment will increase. And some countries are already negotiating bulk discounts so that everyone can be treated.
So there are still lots of reasons to be optimistic – just that currently, life might be more complicated… compared to an ideal world.
Last updated: 17 August 2017.