Updates in this edition, disclaimer and credits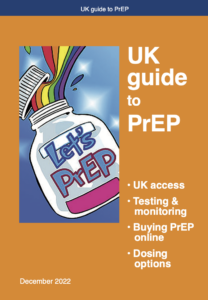 This is the ninth edition of this guide.
The main changes to this edition are:
That some people in the UK can use TAF/FTC for PrEP.
That injectable PrEP has been approved in the UK but is not currently being widely used.  This involves an infection of cabotegravir every two months.
It was first produced in June 2016 and updated at least every year since. It includes information about access to PrEP in the UK and also on PrEP and sex work.
This guide is dedicated to our inspirational co-author Dr Mags Portman who was a leading advocate for PrEP in the UK. Mags died from mesothelioma in February 2019 aged 44. We miss her deeply.
Disclaimer
Information about PrEP can change based on new research.
Information in this booklet is meant to be used in discussion with your doctor.
Further information
This leaflet was produced by doctors and community advocates from the following organisations.
Credits
Written by Dan Clutterbuck, Simon Collins, Sheena McCormack, Achyuta Nori, Will Nutland, Greg Owen, Mags Portman, Michelle Ross, Sophie Strachan, Martina Toby, Laura Waters and Aedan Wolton.
Thanks to Lesbians and Gay Men Support the Miners (LGSM) for supporting for the print edition.
Cover graphic: iwantPrEPnow.co.uk
ISSN 2398-6409 (i-Base, London, 7th edition, February 2022).

Last updated: 1 November 2023.