CNS side effects: mood changes, anxiety, dizzyness, sleep disturbance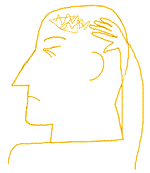 Associated drugs: efavirenz (Sustiva), Atripla (contains efavirenz), rilpivirine (Edurant), Eviplera and Odefsey (both contain rilpivirine).
Other HIV drugs including raltegravir (Isentress) and dolutegravir (Tivicay) and Triumeq (contains dolutegravir) have also been linked to mood changes
Of these, efavirenz is the main drug linked with mood changes.
Since 2016, UK guidelines no longer recommend efavirenz as the preferred choice for starting treatment. However, even in the UK, efavirenz is still likely to be widely prescribed. This is because generic efavirenz is now very inexpensive.
Although case reports of similar side effects have been reported with atazanavir/r, nevirapine, abacavir and other ARVs, these are very rare. More recently, integrase inhibitors have been linked to mood changes.
There are several difficult things about these side effects linked to efavirenz.
Firstly, nearly everyone will get some of these symptoms, but for most people they will be mild and easy to manage. This means that you might have some strange dreams, or find yourself daydreaming or getting more worried, or you might get more upset than usual.
Secondly, if you know about this before you start treatment, it will be easier to manage and should be less alarming. Information about what to expect before you start taking efavirenz (or rilpivirine) is therefore essential.
CNS side effects can occur after a few hours or after several days and are more common over the first few weeks of treatment. They generally become easier to tolerate.
About a quarter of people in the first efavirenz studies recorded serious CNS side effects. This definition included 'difficulty carrying out daily work'. So although very few people stopped efavirenz in these studies because of the side effects, you have about a 25% chance that it could make it difficult to work as normal until you get used to them.
Starting efavirenz or rilpivirine when you have a few easy days or time off work might reduce any anxiety. It might help if you are more relaxed and less stressed.
Efavirenz might be a difficult drug if you work shifts that require sometimes working days and sometimes working nights. This is becasue most people routinely take efavirenz before they sleep.
Many of the symptoms described here can also be symptoms of HIV-related diseases that are now seen less frequently such as dementia, TB or cryptococcal meningitis. These can develop slowly over time, so describing symptoms to your doctor, in order that they can rule out these factors is very important.
Severe side effects
Some people will experience these side effects much more intensely. If this is the case, it is essential that you get more support as soon as you need it. Perhaps 2-3% of people switch to a different treatment within a few days or weeks.
However, other people only chose to switch after trying efavirenz for several months. This is because although side effects usually get easier to tolerate, they might continue at a low level for longer than the first few months.
Up to 20% of people might switch over the first year.
CNS side effects can lead to or worsen depression, including suicidal feelings and paranoia. It is very important therefore that you are aware that such moods swings can be related to efavirenz and that you are not 'going mad'.
If you are feeling paranoid and worried about going outside, or have stopped seeing your friends as much, this might be related to efavirenz or rilpivirine side effects.
Some studies have cautioned against using efavirenz if you are already depressed or have a history of psychiatric illness, but people without such a history have also found symptoms difficult.
Several reports have been published of severe reactions in people with no previous psychiatric symptoms or illness.
Some studies have linked higher efavirenz levels to low body weight. Importantly, research in 2004 showed that race might be important. A higher percentage of Africans metabolise efavirenz more slowly. This results in higher doses than needed.
Often side effects are related to high blood levels of efavirenz. Measuring drug levels with TDM can allow dose reductions without reducing the HIV effect of the combination or risking resistance.
Why these symptoms are associated with efavirenz is not understood. It is also not possible to predict who will experience more severe symptoms.
Reducing CNS side effects
Although you can take efavirenz with or without food, a high fat meal increases drug levels by 60% and this increases side effects.
Taking efavirenz a couple of hours before you go to sleep, rather than at bedtime, makes it more likely that you will be asleep when the drug levels are at their highest –  about four hours after taking efavirenz.
Haloperidol to reduce anxiety and sleeping pills to help with sleep disturbance might also help, although these have not been formally studied.
If you have difficult side effects with efavirenz and you are not happy with how you feel, it is very safe to change it to another HIV drug.
You do not have to continue with efavirenz to prove anything to yourself or your doctor. If you know something is wrong, don't worry about asking to change to something else.
Even if you have only used efavirenz for a few days, if you know it is not for you, it is okay to change. Some drugs are not for everyone.
An alternative to efavirenz should be available in every country – it just means using second-line ART, usually with a boosted protease inhibitor.
If an alternative is not available, ask is a 400 mg dose is available instead of a 600 mg dose. Several studies have reported slightly lower side effects with similar efficacy using the reduced dose.
How to report symptoms
Some of the symptoms associated with efavirenz are not easy to describe. The advantage of writing down the effects you experience will let you see whether they are getting easier.
CNS symptoms include:
Impaired concentration, confusion and abnormal thinking.
Mood swings including anxiety, agitation, depression, paranoia (feeling very anxious or nervous) and euphoria (feeling very happy).
Sleep disturbance including insomnia, drowsiness, vivid dreaming and nightmares.
Sleep disturbance:
Keep a diary of how often your sleep is disrupted.
Try to describe this in a clear way. Is this every night or several nights a week?
Can you estimate how much time you sleep each night, and how much you slept in a normal night before you started treatment?
Concentration and memory:
Are you finding it more difficult to concentrate?
Have you been aware of memory loss recently?
Dreams and nightmares:
How often do you have dreams or nightmares?
Do these disturb you sufficiently to leave you unsettled the next day?
Mood changes:
If you get mood changes try to describe these clearly in a diary.
Have your family or friends noticed a change in your behaviour, even if this is not clear to you?
Examples of how your mood has changed can give a clearer idea of how you are affected.
Depression and feelings of suicide:
A small percentage of people who experience severe side effects have reported feelings of unexplained depression that are out of character, including suicidal thoughts.
Symptoms at this level mean that it is critical to discuss this with your doctor in order to change to another treatment.
If you are currently taking efavirenz, you might find it easier to talk to a close friend about how you feel and ask them to come with you for support when you visit your doctor. There is never a problem with taking a friend or family member with you whenever you see your doctor.
Last updated: 1 March 2023.