What is the best combination?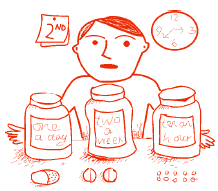 Although there are more than 30 approved drugs and formulations, only a few combinations are widely used.
All the main recommended combinations are very good. They are similarly effective and easy to take.
There isn't one best combination. The combination that is best for you depends on your medical history and your choice.
All modern combinations are effective enough to reduce your viral load to undetectable levels.
This means the main focus is to chose drugs that are easy to tolerate and adhere to.
Talk to your doctor about your choice of treatment.  If you have taken HIV drugs before, or have drug resistance, this will affect your choice.
Information about dosing, pill size and side effects will help you pick a combination that is right for you.
Get involved in choosing your treatment. If need to fit to your life, schedules and routines as much.

Being able to share with my relatives and close friends has helped me a lot. My boyfriend always asks me if I took the pills at time.

I've been taking HIV treatment for the last 20 years. When I started, no one would had imagined the choice we have now. I now feel truly optimistic about the future.

As new drugs become available, choices will become even more individualised. A good relationship with our doctors and nurses is important: we'll probably need to see them for years!

— Xavi, Barcelona
Last updated: 1 October 2019.