HIV and COVID-19 – a monthly bulletin
4 May 2021. Related: News.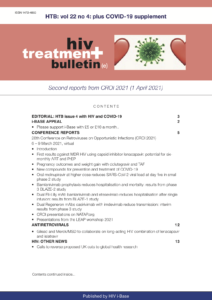 Since March 2020, i-Base publish a monthly bulletin on HIV and COVID-19 as a supplement to HIV Treatment Bulletin (HTB).
The main focus is to cover medical news including research into safety and efficacy of treatment and vaccines, especially the implications for people living with HIV.
There are now more than 200 reports online that cover all other aspects of COVID-19, including prevention and transmission, pathogenesis, epidemiology and links to other online resources.